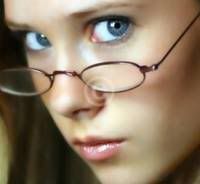 Oh we are in so much trouble.
This morning, a girl friend texted me this:
"I may not know a lot of things but I am sure of this: I can never be with a man who does not know what the word "profundity" means. Basta."
I don't know what triggered this realization for her, and maybe I don't really want to find out. Thing is, I get her point completely. I may not be as exacting as to disqualify guys who cannot define difficult words point blank like she demands though. I say, one must even beware of guys who use "
profundity
" in their daily conversations (instead of a winner, you might have found yourself a poser). But the one thing I could not stand is a man who cannot speak in fluent and properly enunciated English. And I don't mean those who exaggerate their pronunciations.
Yes, it's elitist. It's 100% snobbish. There's no helping it though, I get turned off with guys who try too hard to sound good when using English. Oh, man. There's lots of them around. I've wanted to wring the neck of a dozen guys who insist in butchering the foreign language instead of playing it real and speaking in Filipino. Then again there are those who know they are good English-speakers, and this makes them believe they have the right to blab non-stop. What we're looking for here is BALANCE. Walang pag-iinarte.
Mas rerespetuhin ko pa ang tao na kakausapin ako gamit ang tuwid na Filipino kaysa sa isang taong nagpipilit at namimilipit sa paggamit ng Ingles.
Case in point, this guy who was kind enough to want to explain to me the meaning behind the different color cloths that Igorots wear. He explained to me that:
"If the skirt is colored simple,
its mean
, they are poor. If the cloth is more colorful,
its mean
, they are rich."
Ang sama sama sama ko.
Oo alam ko, culturally, some dialects are more phonetically challenging to unlearn than others. Naniniwala din naman ako na ang mga tao ay may kanya-kanyang kagalingan. We have athletes, artists, academicians, empaths and diplomats.
But, burn me at the stake with my confession, still, I need to be able to converse coherently with the guy I would choose to be with. He needs to be witty, not just moronically funny. I have to respect his intellect, I cannot bother to explain the basics of why the sky is blue to him.
Hindi lang naman kasi Ingles ang pinag-uusapan dito eh. Pati Math, Science, History, Geography, E.P.A.P.A. at Values na rin.
Ako lang naman ito. Kaya nga siguro, 99% chance, tatandang dalaga ako. :'(
At least, dalawa kami ng friend ko.
Pero, teka, teka nga muna... Ano nga ba ibig sabihin ng profundity?
Hehe... just kidding!